This is a Sponsored post written by me on behalf of Miracle-Gro. All opinions are 100% mine.
Do you like to garden but it just seems too involved and too time consuming?  Well, it doesn't have to be.  I get my son involved and he loves to do it, especially because it involves dirt!  
We upcycled a few large yogurt containers and created pots for my son's flower seeds.  He loves to pick and smell flowers so we decided to start his own wild flower personal picking area!  We are working to remove everything that is in the desired location and while we work on that, we are planting seeds to transplant into thenew flower garden.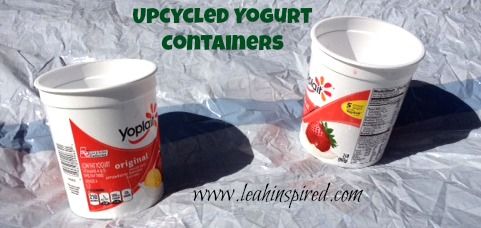 First we spray painted our yogurt containers.  It took a few coats, but now you can't even tell that they were yogurt containers.  
Then we filled the pot halfway up with Miracle-Gro potting soil for vegetables and flowers.  My son put the seeds in and covered them to the top with more soil.  
Had I known the benefits of using Moisture Control Potting Mix, I would have used that instead.  According to Miracle-Gro, the Moisture Control Potting Mix "grows plants twice as big as ordinary potting soil. Absorbs 33% more water! Feeds plants up to 6 months with Miracle-Gro® Continuous Release plant food. Enriched with MicroMax® nutrients for hearty, vigorous plants."  This is great for starting seeds or for indoor plants.
The seedlings are growing and my son is thrilled!  He can't wait for the flowers!
Once transferred to the ground, the Liquafeed All Purpose Plant Food Advance Starter Kit helps you keep your plants fed and watered at the same time.
The Gro Project is a great project to get everybody involved in gardening.  I involve my kids in everything I do and I want them to enjoy and be exposed to everything in nature.  The The Gro Project shows gardening and planting ideas that you can do with basic supplies.  It is a great way to teach your kids to garden and a way to realize that gardening doesn't have to be hard.  Here is a video to show you how it works You can even track your plant growth with the app. 
If you ever need some inspiration, check out some fun garden projects on Pinterest!  I don't know about you, but I am a Pinterest addict and I have been pinning awesome gardening ideas ever since I discovered fun garden projects.
Remember, gardeing can be a learning experience for everybody and isn't always as hard as it looks.  Check out Miracle-Gro for gardening tips, articles, and even videos.
Happy growing!